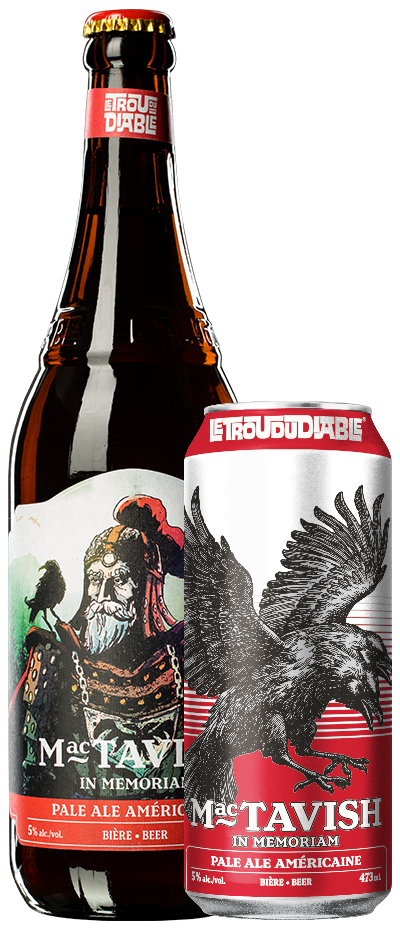 Format(s)

473 | 600 ML

Alcool

5%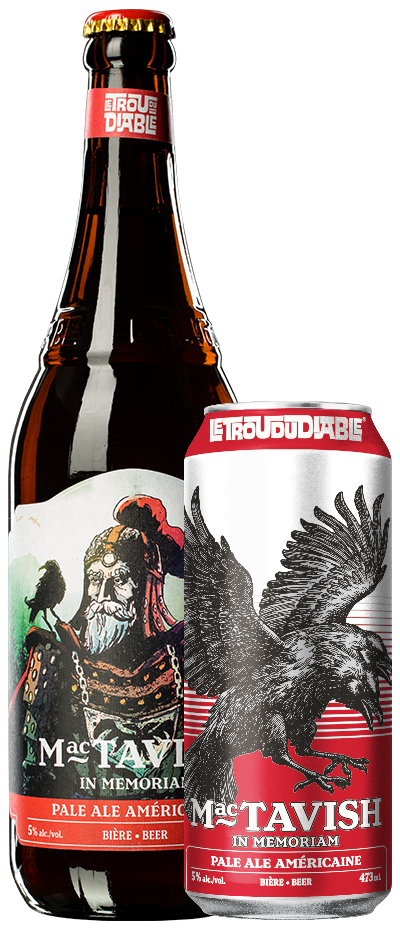 MacTavish In Memoriam
Inspired by American Pale Ales, MacTavish releases scents of green hops, ancestral land and spice. Its palate sways between the sweet flavours of the malt and the tropical fruit of the New World hops, all of which stretch out to a wonderfully refreshing finish.
Appearance

Amber, lightly veiled

Aromas

Sweet malts and tropical fruits

Taste

Light caramel, pine and pink grapefruit

Final

Slightly bitter and refreshing
Food pairings

Cheddar, pizzas, fires and fajitas

Operating temperature

3 to 5 ° C

Amertume (IBU)

30
Fermentation

High

Gasification

Forced

Houblon(s)

Amarillo, Simcoe, Colombus, Centenial + 5 autres
Malt(s)

Pale Malt Gambrinus, Malt Biscuit Dingemans, Crystal Malt 120L Bairds + 1 other

Yeast

Ale

Creation date

15 October 2008
2019 World Beer Awards (Royaume-Uni) Canada Winner – American-style Pale Ale
2018 Mondial de la Bière Europe (Paris) Médaille d'Or Concours MBière
2017 World Beer Awards (Royaume-Uni) Canada's Silver Medal – Pale Beer Pale Ale
2015 World Beer Awards (Royaume-Uni) Canada's Best Pale Ale
2014 World Beer Awards (Royaume-Uni) World's Best Pale Ale
2014 Mondial de la Bière de Montréal (Canada) Médaille de Bronze, Concours Grand Public
2013 World Beer Awards (Royaume-Uni) The Americas Bronze Pale Ale
Did you know
Born from an improvised blend of hops during a global shortage, the MacTavish was adapted over time. Traditional English Pale ale hopped in the American style, it was for a long time the TDD's most brewed beer.
Old MacTavish was the Count of Echternach and Reikswart in Bicolline. Celebrated for his wisdom and valience, he passed away in 2008. May he rest in peace."
Who it is for
Thirst-quenching and refreshing, this beer is the perfect daily reward. Whether you just finished mowing your lawn or are having an old friend over, paying a tribute to MacTavish is always appropriate.