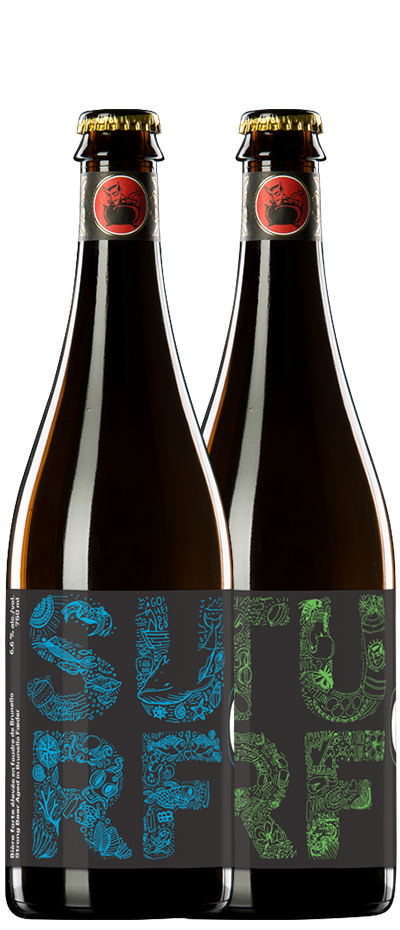 Surf & Turf
Surf & Turf is an orange-hued beer with a lively effervescence that features a thin body and an ephemeral head. It releases a pleasant bouquet of peaches and apricots with subtle notes of caramel. The palate evokes the classic tartaric, mouthwatering rolled sweet and sour candies.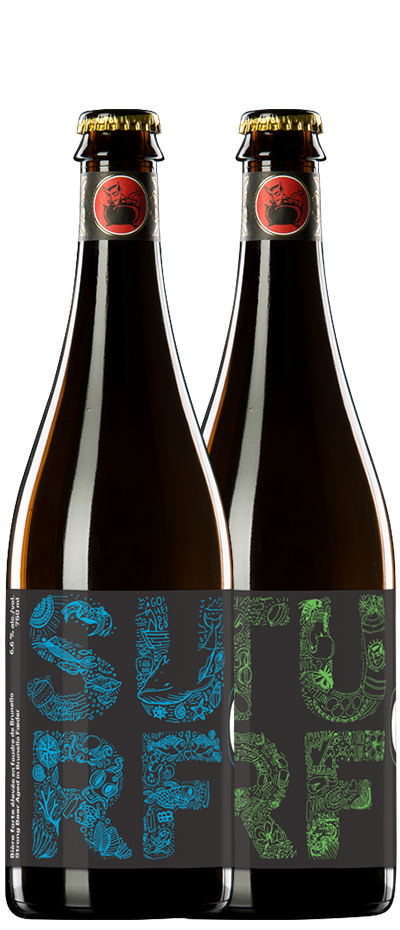 Type

Orange Barrel Aged Saison

Aging time

18 months

Format(s)

750 ML

Alcool

6.6%

Barrel type

Brunello Tuscany Foeder, Foudre toscan de Brunello
Appearance

Orange

Aromas

Peach, apricot, subtle notes of caramel

Taste

Mouthwatering sweet and sour candies

Final

Acidulous, fairly short

Food pairings

Roasted farm chicken, arugula salad, grilled shrimps

Operating temperature

4 to 6 celcius
Yeast

Wild

Creation date

8 November 2019
Did you know that
THIS BEER HAS BEEN BREWED IN COLLABORATION WITH TWO ATHLETES FROM MAURICIE IN ORDER TO CONTRIBUTE TO THE ACHIEVEMENT OF THEIR OBJECTIVES: TAMMARA THIBAULT (TURF) WHO WANTS TO REPRESENT CANADA IN BOXING AT THE OLYMPICS, AND HEIDI LEVASSEUR (SURF) WHO WANTS TO BE THE FIRST WOMAN SWIMMER TO CROSS THE ATLANTIC.
Who it is for
Designed to be enjoyed both at sea and on land, Surf & Turf is intended for idealists, bearers of hope, but mainly for anyone who wishes to express their admiration for outstanding women, with inborn resilience, for whom any demonstration of courage translates to gracefulness.